Bernie Ecclestone has played down the threat to Hockenheim's future on the F1 calendar.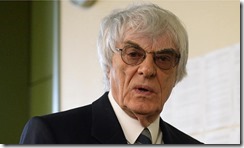 The track's current contract is for a race this July, and then again in 2016 and 2018, as it alternates an annual spot on the schedule with another German venue, the Nurburgring. But Hockenheim's deal has come under threat by a new deal that looks set to be agreed between Ecclestone and the Nurburgring, where the latter circuit will host the German grand prix every year until at least 2019. "We believe we have reached an agreement," the F1 chief executive told Rhein Zeitung newspaper. "I hope we are in agreement."
The 83-year-old Briton has suggested the new deal would mean Hockenheim is axed altogether.
"We cannot judge and do not want to speculate on whether the race will take place in 2016 and 2018 at Hockenheim," said Nurburgring chief Carsten Schumacher, "or whether it would be possible for there to be two formula one races in Germany."
Hockenheim, however, is adamant: "We have a contract," insisted track chief Georg Seiler, "and it has no exit clause." Indeed, despite his earlier hints that Hockenheim's deal might end, Ecclestone now says he will honour the existing contract. "We respect the contract with Hockenheim," he told Rhein Zeitung. "We will comply with the agreements we have."