Ferrari's driver Felipe Massa has cancelled his trip home and went strait to Maranello after a second disappointing weekend in order to identify his lack of performance.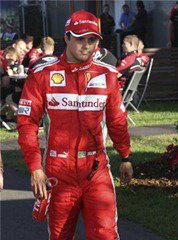 Since 2010 Felipe Massa failed to get on formula 1 podium and while his teammate Fernando Alonso was winning the wet Malaysian Grand Prix the Brazilian was struggling to keep the F2012 on track and only scored a distant 15th after only one week ago in Australia he was forced to retire after he and fellow Brazilian Bruno Senna came together and damaged their cars.
  Having such a bad start of the season speculations have mounted that Massa could be replaced long before the 2012 season will end. Until now the team boss Stefano Domenicali was more than supportive and gave many reassurances that Scuderia will do it's best to help Massa and provide him with a more competitive car. "I well remember that, four years ago, in fact right after a Malaysian Grand Prix, which was won for us by Kimi Raikkonen, Felipe was more or less in the same situation as today," said Domenicali on Ferrari website.
  He continued:  "The papers were demanding his immediate replacement and he managed to react in the best way possible, thanks to support from the team, which saw him win two of the next three races. We remember how that particular season ended, with the Brazilian actually world champion, even if it was just for a few seconds, while we took our sixteenth Constructors' title."
  "Felipe has changed his plans and, instead of heading home to see his family in Brazil, he will be in Maranello tomorrow to work alongside the engineers to calmly analyse everything that happened in these past two races, trying to identify why he was not able to deliver what he is capable of. That's the right spirit and we are here, ready to help him."
  The victory at Sepang was against all odds and Scuderia is more than aware that the problems have not gone away and having Alonso leading the driver's championship means nothing at this point and a lot more work needs to be done to further improve the new F2012.  It was also reported by Reuters that Alonso was at Maranello on Tuesday after he arrived in Italy on Monday from Malaysia.
Info: Reuters