Scuderia Ferrari has learned from some development misdirections in recent races and will start regaining ground again when the Formula 1 season resumes after the summer break, according to the Italian squad's technical chief Pat Fry.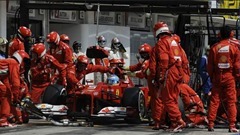 After a tough pre-season, Ferrari staged an impressive recovery, allowing Fernando Alonso to win three races and establish a comfortable championship lead.
But Alonso acknowledged in Hungary, where he would finish fifth, that some of Ferrari's latest developments had not paid off. Fry understood  this, but said Ferrari had learned from it.
"It's true we had a handful of parts that did not work the way we had expected," he told Ferrari's official website. "There's always a chance that can happen in work like this.

"The positive aspect is that we understood the problem and everything is alright now: that way, we can use this experience to move forward rather than being left confused about it. In fact, we have a clear idea on the direction we need to take and we have already begun to work in this direction."
Fry said Ferrari will bring specific developments for the upcoming high-speed tracks at Spa and Monza.
"We have a few interesting developments that we will introduce at Spa, a track which, from an aerodynamic downforce point of view, is quite special, as indeed is Monza," he said. "In fact, we will also have an aerodynamic and engine package specifically suited to the Italian track.

"Therefore a lot of work has been done, but there is still also a lot to do. We must continue to keep up the pressure to a high level."
While delighted that Ferrari appeared to be winning the 2012 development race, Fry promised there would be no hint of complacency.
"In my opinion, we have overtaken a large part of the other teams in terms of development over the season," he said. "We staged a good recovery, but there is still a long way to go."
Source: Racer.com, Image: Ferrari
Find us on Facebook and Twitter for all the latest updates for the F1 2012 season