Kimi Raikkonen and Fernando Alonso have set their sights on finishing on the podium at the season opener at Australia.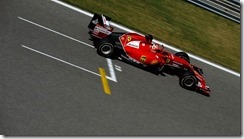 Ferrari didn't really set the world alight during pre-season testing and, as is always the case when there are major rule changes, it is difficult to know the order of the grid ahead of the Albert Park race.
Raikkonen, who returned to Ferrari this year after spending the past two seasons at Lotus, will be aiming for a top-three finish.
"It is difficult to say [if Ferrari can win]," the Finn is quoted as saying by Autosport. "It is the aim for sure, but there are so many unknowns coming this weekend.
"Maybe we did not have the best test in the last days, but I think we have done most of the things that we were planning to do.
"We have to see how we start, try to do our best and try to be up there, finish the race and hopefully be on the podium at least.
"We can only do our best and see where we end up, and if we do everything right we should be up there."
Team-mate Alonso is also not setting his sights too high as the first race can always through up some interesting results, but he admits getting onto the podium is one of their goals.
"We need to see where we are and how competitive we are," the Spaniard said. "I think we cannot be too pessimistic or too optimistic, because it is probably a blind race for everybody in terms of performance.
"If we do everything right then the points and even the podium is a possibility. If we do a very small mistake, maybe the race is over this year – we need to concentrate 100 per cent."
Info: za.news.yahoo.com, Image: Ferrari