Ferrari have been fined after the DRS on Fernando Alonso's car was activated illegally during the Hungarian Grand Prix.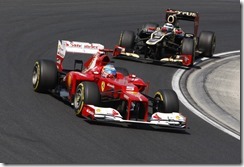 The Spaniard finished fifth at Budapest, but stewards released a report after the race stating that his DRS was activated on three occasions outside the designated one second window.
A statement from technical delegate Jo Bauer read: "After the race DRS activation data from car #3 was analysed. It was found that the driver has activated the adjustable bodywork in three occasions when he was more than one second behind another car.
"As this is not in conformity with article 27.5b of the 2013 Formula 1 sporting regulations I am referring this matter to the stewards for their consideration."
However, a setting error by the team was to blame and the Italian outfit were hit with a $15,000 fine.
"The DRS enabling system was not changed by the team from the pre-race to the race setting," a statement from the stewards said.
"The driver therefore incorrectly received 'DRS enabled' messages and reacted to them (when not entitled to) on three occasions. "As soon as the team became aware of the problem they informed the driver to only use DRS when told to do so by the team.
"Whilst a small sporting advantage (less than one second over the entire race) was gained, the team argued that he also suffered a disadvantage by being unable to use DRS on every legitimate occasion.
"However, the team is ultimately responsible for ensuring the system conforms to the regulations."
Meanwhile, Lotus driver Romain Grosjean, who finished P6, was handed a 20s retrospective penalty but he did not lose any position.
The Frenchman was punished for making contact with Jenson Button while trying to overtake the McLaren driver on lap 24.
Info: Yahoo, Image: Ferrari