Luca di Montezemolo admits the pairing of Fernando Alonso and Kimi Raikkonen "could be dangerous" for Ferrari.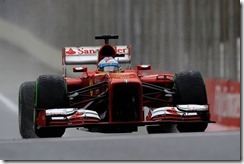 Raikkonen returns to Ferrari for this season having last raced for the team in 2009, joining Alonso who replaced him in 2010. With both drivers former world champions and Alonso used to enjoying number one status, Montezemolo acknowledged the risk Ferrari is taking but is confident both drivers understand the need to work for the team.
"Putting together Alonso and Raikkonen could be dangerous," Montezemolo told Reuters. "But in Formula One … everything is potential danger. I think that Fernando knows that he drives not for himself but for Ferrari. And Raikkonen knows that he is in the second half of his career, two very important years for him, with experience and responsibilities."
With new regulations set to make the new cars very different to drive compared to their predecessors, Montezemolo also said Raikkonen will have to do a lot of work on the simulator ahead of the start of testing, despite Raikkonen previously having said "I've never been a big fan of those".
"Kimi will be extremely busy since the beginning of January to work in this strange machine that I don't like at all, the simulator," Montezemolo said. "It's a joke. We have been forced to invest a huge amount of money in this terrible, artificial, machine instead of being allowed to test here (at Fiorano) and at Mugello."
Info: ESPN Sports Media Ltd., Image: Ferrari