Ferrari team principal Stefano Domenicali thinks that his team must focus on improving the single-lap pace of the F2012 if they want to seize control of the world championship battle.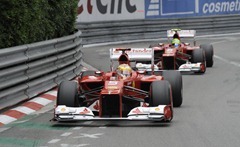 Fernando Alonso has been in great form this season with an under-performing car. Now with his third placed finish in Monaco the Spaniard moved himself back to the top of the world championship standings.
Stefano Domenicali believes that if Scuderia wants to remain a solid title contender, they need to start producing pole position performances to take advantage of the benefits of running in clear air at the front of the field.
"If you are fighting for pole position, and even on pole position, then the race is totally different. "This is something we need to keep focusing on to make sure things are going in the right direction."

"In terms of the pure performance of the car, we had a very difficult start. We have a situation where we are not happy and where we want to improve the car because we have seen other cars at the moment have pole positions, and we do not. So that has to be a target for the team." said Ferrari's boss.
Ferrari have introduced a major upgrade in Barcelona and the modifications seem to have worked and Alonso managed to keep himself in the title hunt.
New upgrades are scheduled for the next few races but Domenicali is convinced that the drivers need to continue to push as hard as they can if the Scuderia wants to remain in the hunt for the titles.
"I feel that at home everyone is working to make sure that every race we keep putting performance on the car, and that is what we have to do," he said.

"I am happy that we are leading but with such a championship we have to make sure that we don't lose points. There are so many drivers and teams that are fighting for the win that you have to be always there."
Source: Autosport, Image: Ferrari