At Spa, even Fernando Alonso – with a long Ferrari contract – is being asked by reporters to reveal his cards for 2014.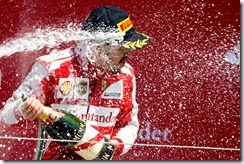 The Spaniard on Thursday played down a spat with president Luca di Montezemolo, but the question was still posed — did his boss ask him to re-commit to the Maranello team beyond this season? "I think the president is a very intelligent man who is very well informed about everything," said Alonso. "In this respect there was no need to ask me this question," he is quoted by Speed Week.
But given the scale of the paddock intrigue at Spa-Francorchamps, that Alonso did not give a categorical answer will not be lost on many. In reality, however, Alonso simply spoke out of turn in Hungary, was slapped on the wrist by Montezemolo, and the team's beloved number 1 was doing some media damage-control on Thursday. The real question is who his teammate will be in 2014.
Reports suggest Felipe Massa has been given two more races – Spa and Monza – to prove he should get a new contract. Kimi Raikkonen, Nico Hulkenberg, Jules Bianchi, and perhaps even Jenson Button are being linked with the seat.
But team boss Stefano Domenicali told Brazil's O Estado de S.Paulo newspaper on Thursday that Massa is "absolutely yes" still at the top of the Ferrari shortlist. The Italian played down the other rumours. "We have had Hulkenberg, di Resta, and many, many others (linked to Massa's seat)," said Domenicali. "Without wishing to be repetitive, we are not going to say now that we are deciding who will partner Fernando next year. "We are calm, as our priorities are elsewhere."
Even so, the questions were still being posed to the major players. Like Alonso, who made clear he is "not afraid" of being paired with Raikkonen next year. But the Spaniard also insisted he thinks Massa is the best option. "Felipe was better than him (at Ferrari) in 2008 and 2009," said Alonso.
Brazilian correspondent Livio Oricchio, however, said it is obvious that Massa's manager Nicolas Todt has been busy in recent weeks, lining up a 2014 alternative. Massa doesn't deny that. "It's good to have an idea of what is there for the future," he said. "I'm not ready to stop racing. It's also logical that Ferrari is looking at some options."
Many in the paddock think the time has definitely arrived for Ferrari to make a change. "Felipe is a great guy," British commentator Martin Brundle is quoted by Auto Motor und Sport, "but I would be disappointed if Ferrari keep him for another year." Fellow broadcaster Johnny Herbert agrees: "Felipe is quick, he's just not consistent enough." Massa responded: "What some others say, I don't care. "I care what I believe and what people in the team say to me."
Info: GMM, Image: Ferrari