Ferrari's two chiefs have apparently clashed over the priorities heading into the final four races of 2013.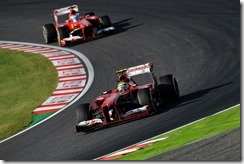 After Suzuka, where Red Bull's Sebastian Vettel moved his title campaign into check-mate, Stefano Domenicali said: "The 2013 (Ferrari) car will have some new parts, but the technical staff is 100 per cent focused on the new (2014) project."
In the lucrative constructors' world championship, Ferrari is a distant second behind Red Bull, but only 10 points ahead of Mercedes. Lotus is also within striking distance. "Lotus have achieved a good pace in qualifying," team boss Domenicali is quoted by Russia's f1news.ru, "very close to ours, or even a little better. "They control their tyre wear very well, so if they qualify ahead it is very difficult to deal with them. "Mercedes has an advantage in qualifying speed, so if they are fighting ahead with Lotus, then our task is very difficult," he also admitted.
Mercedes has already said it is determined to overhaul Ferrari, and Lotus is also bracing for the battle that is worth many millions in official prize money. Lotus' Eric Boullier is quoted by Brazil's O Estado de S.Paulo as targeting the "very ambitious plan" that is achievable "if we can keep up this pace". Former F1 driver turned television pundit Mika Salo agrees: "It is still quite possible that Lotus can take second place, because they can now rely not only on Kimi (Raikkonen) for big points, but also (Romain) Grosjean."
So Luca di Montezemolo, Ferrari's indomitable president, declared this week: "I read about assumed bellyaching or about the team concentrating only on 2014. "I don't even want to hear that kind of talk," he insisted. "There are still four races to go where we will field Ferraris that are fighting for the podium with maximum determination from the drivers and the whole team."
Indeed, Domenicali says Ferrari is still fighting to get the most out of 2013 — which is second place behind Red Bull. "The fight with Mercedes and Lotus has intensified," he is quoted by France's L'Equipe. "It is very tight and we must ensure that we improve the car."
Info: GMM, Image: Ferrari