Stefano Domenicali has refused to rebuke Fernando Alonso for questioning the lagging development of Ferrari's 2013 car.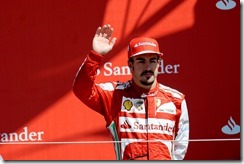 Spaniard Alonso qualified tenth but finished the British grand prix in third place, taking a bite out of Sebastian Vettel's championship lead after the leading Red Bull broke down at Silverstone. "We saw this weekend that the pace is not good enough," he said afterwards.
Earlier, Alonso had pointed a finger at a trend of backwards development coming out of the Maranello factory. "Fernando's analysis is one that I share," team boss Domenicali told the Italian newspaper La Stampa. "We have made the car worse. "Now we need to analyse all the data to find the reasons for this step backwards, and make a solution. "The drivers are in a difficult position psychologically, so it's important to reassure them," he added.
Domenicali also put his support behind Brazilian Felipe Massa, who has suffered multiple crashes in recent races, including yet another in Silverstone practice. Some have suggested the accidents are denting Massa's chances of a 2014 contract. "He needs to feel the confidence of the team, so that everything can be perfect in the next races," said Domenicali. "Adding pressure serves neither the driver or the team."
Info: GMM, Image: Ferrari