Ferrari on Wednesday played down reports it has made a lucrative offer to sign Kimi Raikkonen for 2014.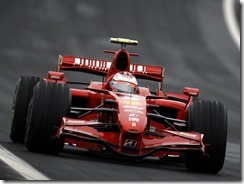 As Lotus and Red Bull tussle over the Finn's services, and amid wild rumours Ferrari number 1 Fernando Alonso is toying with a switch to Red Bull, the Raikkonen-to-Ferrari story was broken earlier by the German newspaper Bild. A Ferrari spokesman told the German news agency DPA the team "has no interest in the driver market right now".
But with Felipe Massa's contract expiring, that might not be true. Indeed, the German magazine Sport Bild said Ferrari never lost contact with 33-year-old Raikkonen, who won the title with the Maranello marque in 2007. Raikkonen's deal was ended a year early late in 2009, when Alonso arrived with crucial Santander backing.
But Sport Bild says Raikkonen always maintained a good relationship with team boss Stefano Domenicali. "I could very well imagine Kimi back at Ferrari," former driver and German-language Sky commentator Marc Surer said. He said he doubts Raikkonen has ruled out Ferrari as an option simply because the team ended his tenure prematurely in 2009. "At that time it was because of Alonso's sponsor that Kimi had to go," said Surer.
So as many muse the possibility of Raikkonen returning to Ferrari, others think a sensational switch from the Italian team to Red Bull for Alonso is also conceivable. "The way I see it," grand prix legend Gerhard Berger said, "Alonso must react. "He has been waiting (at Ferrari) over three years now for the title. Each time, Red Bull beating him. So he has to try to drive for them in 2014," added Berger, who is close to Red Bull team owner Dietrich Mateschitz. "With the brilliant designer Adrian Newey, at least they (Red Bull) give him the guarantee to have a winning car."
But even Berger, a former Ferrari driver, acknowledged that Alonso will only be able to leave if there are "escape clauses" in his 2016 contract. Surer, however, thinks Red Bull pairing Alonso with reigning triple world champion Sebastian Vettel would be a big mistake. "If that happens, Kimi in the Ferrari is world champion," he said. "It would be like 2007, when Alonso and Lewis Hamilton fought so much (at McLaren) that Raikkonen had the last laugh even with an inferior car. "So I doubt Red Bull would create a war like that."
Info: GMM, Image: Ferrari