According to Blick newspaper, Sauber is not the only formula one team that owes Nico Hulkenberg money.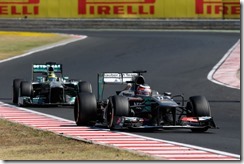 Veteran correspondent Roger Benoit told the German he has heard that Force India, his 2012 employer, also failed to pay him his full dues last year. Hulkenberg smiled as he replied: "Is that even a question? "As far as numbers or salaries go, I cannot say anything. There are contracts."
Benoit added that Hulkenberg then "laughed and said nothing" when it was suggested he might be able to live comfortably on the money owed to the highly-rated driver. Another rumour is that the 25-year-old is already a free agent, having terminated his Sauber contract due to the payment breach. "The response is the same as before," Hulkenberg insisted, but he did not deny there might be talks with Ferrari and Lotus about 2014.
The fact he was not paid by Force India, however, would explain his decision to switch to Sauber over the winter — a move derided by many as a 'sideways' step at best. And in light of Sauber's uncompetitive 2013 car, and its subsequent struggle for mere financial survival, Hulkenberg would be forgiven for regretting the move altogether. "So far we have certainly not delivered what was hoped for," the driver admitted. "But sometimes that's what life is like."
Asked if he feels the pangs of regret when he considers Force India's superior speed, Hulkenberg insisted: "No. I stand by my decisions."
Info: GMM, Image: Sauber