Force India on Tuesday named only one of its drivers for the 2014 season.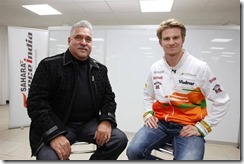 As predicted, the Silverstone based team said its 2012 race driver, German Nico Hulkenberg, is returning to Force India next year after a single season with Sauber. A press release said the 26-year-old had signed a "multi-year deal". It appears there are three candidates to be Hulkenberg's teammate — 2013 incumbents Adrian Sutil and Paul di Resta, and the Mexico-backed McLaren refugee Sergio Perez. "From all the names that are out there, I can work with anyone," Hulkenberg told Britain's Sky. "I'm sure it won't be long before we know."
Perez appears to be the frontrunner, reportedly with EUR 10-15 million in backing to offer, with German Sutil more strongly linked with Hulkenberg's newly-vacated seat at the struggling Swiss team Sauber. Scotland's di Resta is tipped to leave F1, possibly to replace his retiring cousin Dario Franchitti at the top Indycar team Ganassi. As he appeared in a London court for a case against his former manager Anthony Hamilton on Wednesday, di Resta admitted it is "very unlikely" he will be on the F1 grid next year.
F1 teams' ever-increasing reliance on drivers bringing financial backing also hurt Hulkenberg's search for a top seat, having earlier been linked with Lotus. "I think everyone will have their own opinion on it," he said on Wednesday, when asked about Lotus' signing of the PDVSA-backed Pastor Maldonado ahead of him. "It's not the first time I've experienced something like this," Hulkenberg is quoted by the Express newspaper. "I've lost a seat once in Williams, but to be honest I try to get my energy on the important subjects and take my career in the right way."
Info: GMM, Image: Force India