Sebastian Vettel is on the path to being mentioned in the same breath as F1 greats "Ayrton Senna, Alain Prost and Michael Schumacher".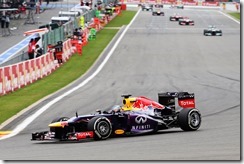 That is the claim of his former Toro Rosso boss Franz Tost, recalling Vettel's first victory at the Italian grand prix five years ago in a column for the German newspaper Die Welt.
Since Vettel, then 21, stunned the F1 world with his dominance at Monza 2008, the German has gone on to dominate the entire sport with Red Bull, winning 30 more races and every drivers' world championship since 2010. "He knows what he wants and pursues it without frills," Tost wrote. "He has always been mentally strong, but due to his success he has become even stronger.
He is in the format of Ayrton Senna, Alain Prost and Michael Schumacher," he said. And now, as the now 26-year-old German's only Red Bull teammate Mark Webber leaves F1, the energy drink company is trying to emulate the Vettel success story with another home-grown talent — Daniel Ricciardo. Tost wanted to keep the Australian at Toro Rosso for another year, but will instead be watching the new Vettel-Ricciardo pairing with interest in 2014. "Whether Daniel Ricciardo does as his new teammate did, depends on whether he seriously intends to defeat Sebastian," he said. "Or whether he will only look up to Sebastian as a three, possibly four-time world champion."
Info: GMM, Image: Red Bull Content Pool