After predominantly wet conditions yesterday, the 60 minutes practice three session is starting as a dry one with no rain predicted until in the afternoon.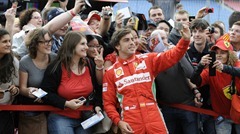 All the teams rushed out to get as much dry running as possible and the end of the session saw the rain coming back to the track while Alonso tops the time sheet before Hamilton, Perez and Raikkonen who has an rather unimpressive record here of  no less than six retirements.
Mark Webber will join Romain Grosjean and Nico Rosberg in having a five place grid penalty after the Red Bull Racing team identified a hydraulic malfunction to his RB8 and was forced to change the gearbox.
| Pos. | Drivers | Teams | Time | Laps |
| --- | --- | --- | --- | --- |
| 01. | Fernando Alonso | Scuderia Ferrari | 1:16.014 | 14 |
| 02. | Lewis Hamilton | Vodafone McLaren Mercedes | 1:16.091 | 21 |
| 03. | Sergio Perez | Sauber F1 | 1:16.202 | 21 |
| 04. | Kimi Raikkonen | Lotus F1 | 1:16.238 | 27 |
| 05. | Mark Webber | Red Bull Racing | 1:16.447 | 19 |
| 06. | Sebastian Vettel | Red Bull Racing | 1:16.475 | 18 |
| 07. | Pastor Maldonado | Williams F1 | 1:16.664 | 18 |
| 08. | Felipe Massa | Scuderia Ferrari | 1:16.771 | 15 |
| 09. | Kamui Kobayashi | Sauber F1 | 1:16.807 | 25 |
| 10. | Bruno Senna | Williams F1 | 1:16.930 | 23 |
| 11. | Romain Grosjean | Lotus F1 | 1:16.962 | 26 |
| 12. | Nico Hulkenberg | Sahara Force India | 1:17.033 | 26 |
| 13. | Paul di Resta | Sahara Force India | 1:17.148 | 24 |
| 14. | Daniel Ricciardo | Scuderia Toro Rosso | 1:17.238 | 25 |
| 15. | Michael Schumacher | Mercedes AMG Petronas | 1:17.266 | 22 |
| 16. | Jean Eric Vergne | Scuderia Toro Rosso | 1:17.419 | 23 |
| 17. | Nico Rosberg | Mercedes AMG Petronas | 1:17.491 | 26 |
| 18. | Heikki Kovalainen | Caterham F1 Team | 1:18.366 | 21 |
| 19. | Vitaly Petrov | Caterham F1 Team | 1:18.818 | 23 |
| 20. | Pedro de la Rosa | HRT F1 Team | 1:19.778 | 22 |
| 21. | Timo Glock | Marussia F1 | 1:20.235 | 22 |
| 22. | Charles Pic | Marussia F1 | 1:20.318 | 9 |
| 23. | Narain Karthikeyan | HRT F1 Team | 1:20.741 | 22 |
| 24. | Jenson Button | Vodafone McLaren Mercedes | 1:20.914 | 25 |
Find us on Facebook and Twitter for all the latest updates for the F1 2012 season