We had some dry track at the start of the qualifying session and after the Q1 was over the rain came in a quite heavily fashion.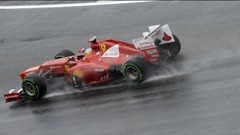 In Q1 were kicked out the usual suspects HRT, Marussia, Caterham and Jean-Eric Vergne for Scuderia Toro Rosso. Q2 was a completely wet one with the best times set on intermediate tyres in the first laps.
Q3 was a question of who will run most in the full wet Pirelli tyres and this point Raikkonen and Alonso decided to enter and change to brand new tyres while they were followed shortly by Schumacher and the Red Bulls a strategy that worked great for the Scuderia and Alonso takes the pole once more in wet conditions.
Pos.
Drivers
Teams
Time
Laps
01.
Fernando Alonso
Scuderia Ferrari
1:40.621
25
02.
Sebastian Vettel
Red Bull Racing
1:41.026
23
03.
Mark Webber*
Red Bull Racing
1:41.496
22
04.
Michael Schumacher
Mercedes AMG Petronas
1:42.459
23
05.
Nico Hulkenberg
Sahara Force India
1:43.501
24
06.
Pastor Maldonado
Williams F1
1:43.950
24
07.
Jenson Button
Vodafone McLaren Mercedes
1:44.113
25
08.
Lewis Hamilton
Vodafone McLaren Mercedes
1:44.186
25
09.
Paul di Resta
Sahara Force India
1:44.889
22
10.
Kimi Raikkonen
Lotus F1
1:45.811
18
11.
Daniel Ricciardo
Scuderia Toro Rosso
1:57.009
15
12.
Sergio Perez
Sauber F1
1:57.071
17
13.
Kamui Kobayashi
Mercedes AMG Petronas
1:57.108
16
14.
Felipe Massa
Scuderia Ferrari
1:57.132
17
15.
Romain Grosjean*
Lotus F1
1:57.426
18
16.
Bruno Senna
Williams F1
1:57.719
21
17.
Nico Rosberg*
Mercedes AMG Petronas
1:57.895
18
18.
Jean Eric Vergne
Scuderia Toro Rosso
1:48.044
9
19.
Heikki Kovalainen
Caterham F1 Team
1:49.027
8
20.
Vitaly Petrov
Caterham F1 Team
1:49.477
9
21.
Charles Pic
Marussia F1
1:51.618
12
22.
Timo Glock
Marussia F1
1:52.742
11
23.
Pedro de la Rosa
HRT F1 Team
1:53.040
8
24.
Narain Karthikeyan
HRT F1 Team
1:54.143
10
 
107% Time:
1:20.991
 
 
* Webber, Rosberg and Grosjean will lose five places due to gearbox changes
Find us on Facebook and Twitter for all the latest updates for the F1 2012 season