Romain Grosjean's days in F1 could be numbered, according to former driver and Finnish pundit Mika Salo.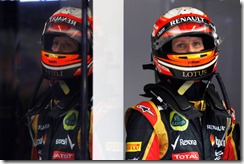 Having apparently put his 'first lap nutcase' troubles of 2012 behind him, the Frenchman was back in the wars in Monaco, crashing no fewer than four times. He will have to move ten places down the grid in Canada due to the crash with Daniel Ricciardo, reinvigorating reports his days at Lotus are numbered. "It's hard to say what Lotus will decide, but he is causing a lot of damage and losing a lot of points, which is not what the team needs financially," Salo told MTV3. "Soon, he will hurt someone else or himself," the former Sauber driver warned. "Grosjean is incredibly fast, but too prone to error for this series. He's had enough years to practice, but there comes a time that this is not the place to practice anymore."
Also under the microscope after Monaco is Sergio Perez, whose controversial driving attracted the ire of prominent rivals like Fernando Alonso, Kimi Raikkonen and even his own McLaren teammate Jenson Button.
Jean-Eric Vergne, the Toro Rosso driver, was also unimpressed. "To be honest, I get no pleasure from the misfortune of other drivers, because it's also happened to me," the Frenchman is quoted by Auto Hebdo. "But if I did have a comment, I would say that Sergio has not had bad luck, I think he went out (of the race) because he wanted to. Or at least he seemed to try his best. "I think the word bad luck is more applicable to Daniel (Ricciardo), when Romain (Grosjean) crashed into him!"
Info: GMM, Image: Lotus