Romain Grosjean could be left out in the cold as Lotus looks to change gear for 2015.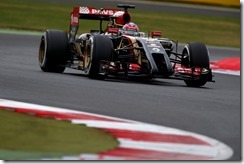 It is now an open secret that the Enstone based team intends to switch from Renault to Mercedes customer power at the end of the season. "I can't confirm it yet," Mercedes' Toto Wolff smiled to British television Sky on Saturday. Less clear is the reason for the move. Certainly, Lotus – fourth overall in both 2012 and 2013 – has struggled notably for reliability with Renault's underpowered turbo V6. But the team's links to the French marque are historically solid, as Lotus was once called Renault — the works squad. Since then, the Enstone team has retained the solid backing of Total, the French multinational that is now working hand-in-hand with Renault to improve the fuel that powers Red Bull's world championship hopes. Also strongly linked to Total is Frenchman Grosjean. But the 28-year-old's career was also tied closely to another Frenchman, Eric Boullier, who doubled as his manager.
Today, Boullier is the team boss at a rival team, McLaren. So the final straw for Grosjean could be Lotus' Renault split. The arrival of Mercedes power would no doubt mean the end of the team's association with key Grosjean backer Total. "Things are open," Grosjean agreed at Silverstone, "but it's not because Eric is there (McLaren) that things are that simple."
What is clear is that if the Lotus-Mercedes deal is formalised as expected in the next few days, Renault is unlikely to find a replacement customer. "There will be less revenue, this is true," Renault's Remi Taffin admitted, "but not at the level that would put us in difficulty. "Indeed, perhaps concentrating on fewer teams will help Red Bull to achieve their goals," he is quoted by Italy's Autosprint.
Therein lies the probable truth, as it seems that the recently highly-critical premier team Red Bull has applied pressure on Renault to narrow its focus. Dr Helmut Marko revealed to F1's official website that Renault will only supply "one version" of its 2015 specification power unit to users Red Bull, Toro Rosso and Caterham. "Not like this season," he said, "where Lotus had a different version to us, which tied up too many resources at Renault and distracted from the development."
According to paddock rumours, another change at Lotus could be the loss of multinational backer Unilever – and the sponsors Clear and Rexona – to McLaren. It could help the Woking based team to woo the increasingly frustrated Fernando Alonso from Ferrari. The Spaniard is famed for his 'never give up' attitude, but after qualifying at the back of the grid at Silverstone, Alonso admitted the time has now come. "Yes. Anyone apart from Rosberg and Hamilton saying they can be world champion this year is lying," he is quoted by Speed Week. "And I don't like to lie." And he is also quoted by Spain's AS: "I'm not saying that we can't do anything this season, but to be eighth, ninth, twelfth or nineteenth is not going to change our lives."
Image: Lotus F1 Team