Romain Grosjean insists he is remaining positive about the remainder of the 2014 despite the "hurt" of the season so far and with a question-mark remaining over his future.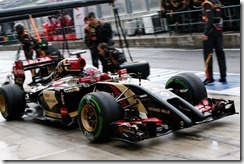 Lotus has struggled since missing the opening test of the season, with Grosjean's back-to-back eighth places in Spain and Monaco the only points the team has scored. While team-mate Pastor Maldonado has been tied down to another season at Lotus Grosjean's 2015 seat has not been confirmed, but the Frenchman insists his only focus is on a strong finish to the current campaign.
"Despite the difficulties so far, I feel positive for the rest of the season to come," Grosjean said. "We have seen that there have been many issues since the start of the year and even before, but as with everything in life you have to look forward and that is exactly what I'm doing.
"This is now my third full season in F1 and although the disappointments always hurt, I am also mature enough to know that when things get tough you are able to learn more and to try and work toward being successful again. I really hope we can do that together as a team for the remainder of the year. That's the aim."
Despite being hampered by the loss of FRIC since Germany, Grosjean believes Lotus can end the season strongly, starting with a good result in Spa.
"We need to build some momentum and I will be going all out to make sure we get more points and exploit the best of the E22 for the rest of the season. Since Monaco we have had a succession of really hard races where for many reasons we have not been in the position to claim any points. For Spa I am hoping there will be some improvements so we can show the potential which has been seen on a few occasions, like at Barcelona.
"We as drivers can do is to do our best every time we get in the car. It's been a very hard year but you have to keep looking ahead and hoping that all the bad luck, issues and tough times get paid back through our determination to make things better. Ever since I have been at Enstone I have seen this determination to succeed and it will help us out."
Info: © ESPN Sports