Romain Grosjean showed impressive pace all in Monaco but when it mattered most the Frenchman got involved in a first lap melee which saw his race end just 200 metres from where it started, now the Lotus driver looks ahead to Montreal where he has never raced before.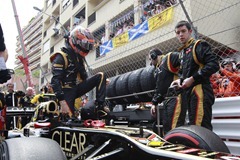 How are you approaching the Canadian Grand Prix?
Romain Grosjean: It will be my first time in Canada so it's another new experience for me this year. Obviously this means it's also going to be my first time driving the Circuit Gilles Villeneuve. I'm looking forward to it because it's a track which many drivers have told me they like. It's also a track which can bite you, and we've seen that over the years with the 'champions' wall'. Even though I'm not a Formula One champion, I'll be giving that part of the track some respect!
How do you bounce back from a disappointing Monaco Grand Prix?
RG: Up until the race itself the Monaco Grand Prix [looked] very promising. We had strong pace all weekend, even if qualifying wasn't quite as good as it might have been. It certainly could have been worse, but we were slightly disappointed with qualifying in fifth. The race itself was very short for me. I didn't get the greatest start, and it's so crowded off the line in Monaco that sometimes there just isn't enough room. In this case there wasn't and my race ended. After a difficult day like that you want to jump straight back into the car and have a proper race! Let's hope that is the case in Canada and we can show what we are capable of!
How did you feel when you joined the engineers whilst the race was still running?
RG: For sure it was frustrating. In fact, it took me a couple of days to get rid of my disappointment from Monaco. It was such an early exit and it was my home race where I really wanted to go well in front of all the fans. We had the car to be able to be challenge for a strong result. Everyone knows this, but that's motor racing sometimes.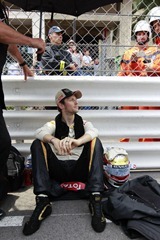 You don't seem to have had too much difficulty coming to terms with new circuits this year. Is there any secret to this?
RG: Over the last few years I seem to have always been learning new circuits so I guess I must have a pretty good approach to it! This season it helps that the E20 is such a forgiving car and we have a very good baseline setup which means we can quickly look at refining it and finding more pace rather than trying to compensate for any chassis imbalance or difficult handling characteristics from the car. I work very closely with the team and my engineers to understand all the requirements of a new circuit, and there are always aspects of one track which can be likened to another. Ultimately, you just have to get out there and drive fast.
What do you know about the Circuit Gilles-Villeneuve?
RG: It's a street circuit and normally I enjoy street circuits – I was right on the pace in Monaco. I enjoy the sensation of being close to the walls. There are really long straights and some big braking moments. The track surface can also present challenges as we've seen in other seasons, so it will be interesting to see what the grip level is like for myself. Finally, the weather in Montreal can be quite changeable, as we saw last year. I'm sure it'll be a challenging and exciting Grand Prix.
Does Canada present any particular challenges being a long haul amidst the European season?
RG: I arrive on Monday to beat the jet lag. Sometimes that challenge in itself and getting decent sleep can be as hard to solve as finding the right setup for the car! I'm looking forward to discovering more of Montreal, learning the track, and hopefully getting some good sleep at the right time too!
Source: Lotus F1 Team, Image: Lotus  F1/LAT Photographic