John Surtees, F1's 1964 world champion, has questioned Mercedes driver Lewis Hamilton's focus.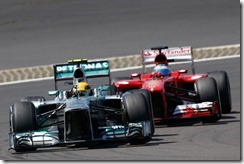 Briton Hamilton, while regarded by many as perhaps the most naturally gifted driver today, has had a leaner period of success since winning the 2008 title in his second season. "Other things have partly had a bearing on his career, but to what degree? I don't know," Surtees told the Daily Mail.
79-year-old Surtees may be referring to Hamilton's involvement in numerous scandals, his friends, his amateur music and film careers, his controversial paddock pass for dog Roscoe, and his on-off relationship with a pop singer girlfriend.
"In the end it is up to the person concerned to live their life, and if Lewis believes that he is getting the best out of life in the way he lives it on and off the track than that is up to him and no one else," he said. "At the same time, it would appear that he is not quite as constantly focused on getting the job done as he was perhaps at one time," added Surtees. "And when you are competing against the likes of Fernando Alonso and Sebastian Vettel, then you have a problem."
Hamilton admitted at the Nurburgring recently that he is struggling to cope with his latest split from girlfriend Nicole Scherzinger. British Sky commentator Martin Brundle insists: "He needs to find a way pretty soon to be able to package that up and be able to manage his private life and make sure he's maximising his racing life."
Info: GMM, Image: Mercedes GP