Lewis Hamilton says he needs a miracle to win the Hungarian Grand Prix despite taking pole position ahead of Sebastian Vettel in qualifying.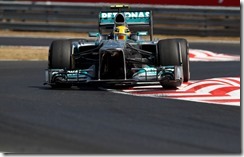 "I don't envisage tomorrow being a win for us," he said. "We've got a steep hill to climb with these tyres and if we did win it would be a miracle. I still feel the win is a while off."
Hamilton was 0.038s faster than Vettel despite struggling throughout the weekend to get the tyres working over one lap. He said he thought he had not hooked up a great lap but attributed the extra pace to his team's hard work.
"I was really surprised when I came across the line and they told me I had got pole, I expected Seb to get it because he showed some serious pace before," he said. "It didn't even feel like that great a lap so I was surprised.
"I thought maybe he made a mistake or something, but we've brought some upgrades this weekend and the guys have been working incredibly hard to try to catch everyone. They are doing a phenomenal job so it's a result of all the hard work they put in."
However, Hamilton is expecting to struggle with tyre degradation on Sunday and said beating Vettel into the first corner would be crucial.
"It's really difficult to follow other cars here. It's a long way down to turn one but if you can get into turn one first and hold your position it's definitely advantageous. Looking after the tyres in these conditions is always trouble. These guys [Vettel and Romain Grosjean] are going to be ridiculously fast so trying to keep ahead or hold onto them is going to be the challenge tomorrow."
Info: ESPN Sports Media Ltd., Image: Daimler Media