Lewis Hamilton says he does not want Jenson Button to play a supporting role to him this season.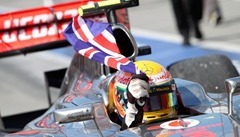 Although there has been talk that Button could be asked to move aside for his McLaren teammate later in the campaign if his own World Championship hopes are over, Hamilton insists he wants to win the title by himself.
"Jenson races for the team and he races for points for himself as well, plus he is getting stronger as the season goes on," explained Hamilton, who trails Fernando Alonso by 47 points in the title chase. "So I anticipate that will be the case throughout the rest of the season. We need him – and I need him – to score points as well. I want him to do well."
When asked if he would expect Button to help him in the closing stages of the campaign if circumstances dictated it, Hamilton said: "I don't see racing like that. You watch back in the years where drivers let drivers past to win the championship. It doesn't feel right to me. I wouldn't be asking for that."
He added: "If I am not quick enough, I am not quick enough. I want to win because I am the quickest, not because I was given points by someone being held up."
McLaren team principal Martin Whitmarsh said ahead of the Belgian Grand Prix that he could not rule out Button being asked later in the season to help Hamilton, but for now both drivers were free to race.
Info: Racer.com, Image: Vodafone McLaren Mercedes
Find us on Facebook and Twitter for all the latest updates for the F1 2012 season