Lewis Hamilton thinks the time is right for Sebastian Vettel to "show his leadership" at world champion team Red Bull.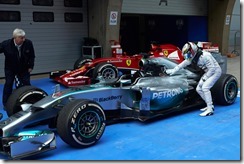 The Milton Keynes based team has been pushing to emerge from its pre-season crisis involving troubled engine supplier Renault. But at the same time, German Vettel – the reigning quadruple-consecutive drivers' world champion – has been struggling simply to keep up with his fresh-faced new teammate, Daniel Ricciardo, following the sport's V6 rules switch.
Further up the grid, Hamilton and his Mercedes have been dominating, but in an interview with Germany's Bild am Sonntag newspaper, the 2008 world champion commented on Vettel and Red Bull's plight. "As a four time world champion, Sebastian needs to show his leadership inside the team now," Hamilton is quoted as saying. "When it comes to the crunch, you are able to show that leadership to your team," he added.
Indeed, Hamilton expects Vettel and Red Bull – formerly a near-unbeatable combination in F1 – to eventually get back to winning. "Regardless of the power unit, it's still a strong car," said the Briton, referring to the Adrian Newey-penned RB10. "So I don't believe that the current situation will stay the same."
Hamilton also commented on his ever-intensifying rivalry with Mercedes teammate Nico Rosberg, in the wake of their forceful wheel-to-wheel battle in Bahrain. "We both know what we are doing," he said, amid reports the Brackley based team is at odds over whether to rein in their battle with some form of 'team orders'. "Nico is fair and aggressive, but not wildly aggressive," Hamilton said. "Just the right amount. The real problem is that he is faster than ever before."