Christian Horner was on Tuesday faced with rising speculation Red Bull is weighing up a choice between two drivers for Mark Webber's 2014 seat.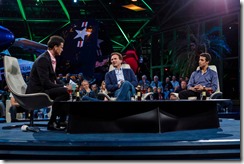 Amid suggestions the team has decided to replace Australian Webber, team boss Horner admitted in Barcelona that the 36-year-old is in "the autumn of his career". On the front row of the grid for his place, according to the rumour mill, are Kimi Raikkonen and Daniel Ricciardo.
When asked about the Finn, Horner told Austrian Servus TV: "Kimi is doing a good job. He's very strong at the moment. "But we're focusing on our own drivers. Kimi is a competitor that we want to beat. "The right time for us to discuss the drivers is later in the summer," he added. Nonetheless, the rumours keep coming.
Sitting right alongside Horner amid Tuesday's questioning was Australian Ricciardo, the stand-out driver at Red Bull's second team Toro Rosso in 2013. "I don't know," the 23-year-old driver said when asked about a possible opportunity at the main team. "What do you think, Christian?" he grinned.
Horner answered: "Daniel is a very, very talented driver. He has come from the Red Bull junior programme and has done a great job. We have an eye on him. "We're also looking at what Jean-Eric Vergne is doing, and it's nice to see the progress they're making. "Daniel has done some great races. He was very strong in China," Horner continued. "The purpose of Toro Rosso is to develop drivers and make them candidates for Red Bull, just as Sebastian Vettel did."
Info: GMM, Image: Red Bull Content Pool