Christian Horner recently committed to his long-time future to Red Bull Racing, by signing a multi-year deal with the reigning World Champions.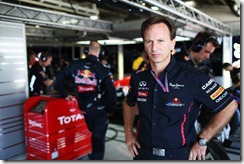 The announcement came just days after the 39-year-old was spotted in Maranello, prompting rumours of a move to Italy.
"Ha, that is the Formula One media that we know," he told the official F1 website.
"But believe me, it was a meeting over the future of Formula One – and it was very well natured and very productive.
Pressed as to whether a move to Ferrari had crossed his mind, Horner said: "Never. Never at all."
"What we have achieved at Red Bull Racing is extremely special and my commitment has always been one hundred percent to the team. The meeting at Ferrari has absolutely nothing to do with me personally – it was all about the future of Formula One."
As for his new Red Bull deal, the Brit added: "It was a natural extension for me – something that was logical.
"I came into Formula One with Red Bull – Dietrich Mateschitz gave me the opportunity, and that at a quite young age – so it was a pure formality to extend our relationship."
Horner also spoke of the pressure of retaining both titles for a fourth successive season, saying that while there is expectation and fear, there is also the knowledge that they have achieved already is for the record books.
"Truth is, with success comes expectation. And our team won six Championships in three years – only a few other teams have managed that.
"When you are at the top you are there to be shot at. With every season that has gone by the pressure hasn't reduced.
"2012 was a tough year, but we really rose to the challenge and it is our determination to take the momentum into this season and not to lose it.
"Of course there is that fear. But on the other hand we have achieved these six World Championships and it is up to the others to raise their game.
"What we have achieved nobody can take away from us – that we've won 34 races, three Constructors' Championships and three Drivers' Championships. That is in the record books."
Info: Yahoo News, Image: Red Bull Content Poll