Red Bull boss Christian Horner is predicting an all-Mercedes silver duel for the 2014 title.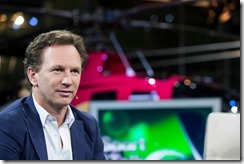 "Lewis (Hamilton) and Nico (Rosberg) — who else is there?" he is quoted by the Times after a disastrous winter for reigning quadruple world champions Red Bull. Horner may not sound confident about Red Bull's chances with its struggling Renault-powered RB10, but he is not writing off the Milton Keynes based team. "If people write us off, that's their choice," he said. Horner insisted Red Bull is "up for the challenge" of nonetheless climbing a "pretty steep mountain" in 2014, acknowledging that the team's position right now is not good. "It seems the Mercedes-powered teams are in good shape and we are, er, not," he smiled.
Renault is taking much of the blame for the crisis, but car designer Adrian Newey admits Red Bull might also have been wiser. "Looking back," he told the April issue of the Red Bulletin magazine, "it would have been smarter to concentrate full power on the new car earlier on. "(But) in August, no one could have guessed that we would be so far ahead by the end of the (2013) season," Newey added. Outside Red Bull, there are cries of relief that Red Bull's run of dominance appears over. "One team destroying it for four years, having ass-whipped so badly, is not good for the sport," Mercedes' Lewis Hamilton is quoted by the Express. "I've been flying through all these airports and keep bumping into someone from a different country who says they used to watch F1 but not anymore," he added.
McLaren's Jenson Button fully agrees that Red Bull's problems are good for F1. "It's sad to say we think like that but it's the case. They've been too dominant," he is quoted by the Telegraph. Horner, however, suggested that Mercedes' advantage could prove just as boring in 2014. "If they were to finish two laps ahead of the opposition in Melbourne, that wouldn't be a surprise, based on what we've seen in pre-season testing," he is quoted by the Mirror. "They invested more, they invested earlier. They have got themselves into a good position."
Horner claims that with the 'power unit' so important in 2014, Red Bull is at a slight disadvantage compared to its main rivals Mercedes and Ferrari. "The split between chassis and engine is obviously different in our team than it is at Mercedes and Ferrari," he is quoted by the Guardian. "We're not totally integrated." But even Dietrich Mateschitz, Red Bull's billionaire team owner, thinks a change of colour at the top of the order in 2014 could be welcomed by F1. "Two hearts beat inside me," he told German news agency DPA. "As a fan, I am glad it is more exciting again — maybe our dominance is at an end." With reports of a recent 'hissy fit' already denied, Mateschitz tipped Sebastian Vettel to "cope" with his new position on the grid. "I don't think he will have a problem coping with the current situation," he said. "Just like the entire team, he accepts the challenge." Vettel, speaking to Austrian Servus TV, agrees: "We were very successful in recent years, achieving many things, but we always knew it would not always be so."
Mercedes chairman Niki Lauda would agree with that assessment of the pecking order. "I say it reluctantly," he told the Austrian broadcaster ORF, "but I'm assuming that the first three grid positions (in Melbourne) will have Mercedes engines."
Info: GMM, Image: Red Bull