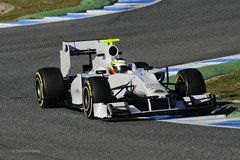 The new HRT F112 car has finally passed the mandatory FIA crash tests after previously failing to do so in two consecutive attempts but as the word sais 3rdtime is the charm and now the car has been officially homologated and can compete in Formula1 2012 Season.
  But even after passing the tests there is a high probability that we won't see the new F112 on track in Barcelona for the next session that will start on March 1st.
At least two test days
  According to a team insider HRT will make at least two practice days with the new car before flying over to Australia, and they stressed out the possibility that those test will take place also on Circuit de Catalunya during maybe the last official testing session while Red Bull and Ferrari are scheduled to be there on the next Monday also.
Image: HRT F1 Team / Motioncompany