The HRT F1 Team is still struggling with getting their cars together, but by comparison with last year they have already won day 1. Now let's see what this day had in store for them…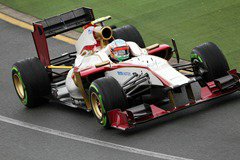 The time has finally come and the first Grand Prix of the season got underway today at the semi-­‐street circuit, Albert Park, in Melbourne. The rain made its presence, meaning that conditions were not ideal, but HRT Formula 1 Team's target was to run as much as possible, no matter what the conditions were.
Narain Karthikeyan, who tested the car a couple of days ago in Barcelona, was able to complete a total of 19 laps. He suffered a hydraulic issue towards the end of the afternoon session which forced him to abandon.
In Pedro de la Rosa's case, today was his first contact with the F112. The team worked the entire night yesterday to ensure that the car was ready on time and, although the last adjustments took place this morning and he couldn't take part in FP1, in the end Pedro made it out on to the track in the afternoon.
After the installation lap, the team detected a hydraulic problem which impeded him from continuing to run. The problems have been identified and the team is already working in order to be ready from the off tomorrow.
Narain Karthikeyan: "Today we ran with a new car in mixed conditions, so tomorrow will be like starting all over again because it looks like conditions will be dry. With few laps and a new car, we were unable to assess the balance of the car. But it was important to do some mileage and we completed 19 laps which isn't too bad, but we still have a long way to go. As for the new car, these problems are common, they tend to happen in preseason testing and this is our testing."

Pedro de la Rosa: "We managed to complete our installation lap in order to check the systems, but afterwards we detected a problem with the hydraulic system which forced us to stop. This is all part of the learning process, we've arrived here with a new car and just to have been able to get out for the second session was a feat, but we would have liked to have done more and learnt more. The last parts of the car arrived late and thanks to the brutal effort put in by the whole team, we were at least able to complete the installation lap and, thanks to this, we know where the problem is for tomorrow and can fix it. We start tomorrow with one problem less, and will surely run into another one, but that is part of the learning process. We knew that this Grand Prix would be difficult so we need to be patient".

Luis Pérez‐Sala, Team Principal: "It's been a complicated day but we knew what we were in for. The fact that we haven't done pre-­‐season testing means that we must get things right, not get ahead of ourselves and detect problems in order to fix them. What the majority of teams have done during winter, we have to do here. Narain was able to complete 19 laps and accumulate certain information. Pedro could only get through one lap, but it was an important one because the team has worked non-­‐stop to make sure the car was finished on time for today, and they achieved it. Tomorrow we will continue to progress."
Info: HRT F1 Team