Nico Hulkenberg thinks Sauber still needs to push hard in bringing further updates to its car before it is able to feel its season is back on track.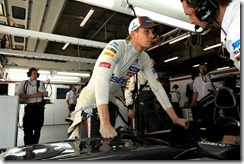 The German and team-mate Esteban Gutierrez have struggled with rear end stability this season, with Sauber's Melbourne package having not delivered the step forward it had hoped. The Sauber C32 was fitted with a new rear wing and further aerodynamic tweaks for China. And although the team believes the changes have produced a step forward, Hulkenberg thinks Sauber is not in the position it wants to be just yet.
When asked by AUTOSPORT if more was needed, Hulkenberg said: "Yes. Before we really are able to fight in Q3 and the top 10.
"I think there is more potential for us still in there. It is early days in the season but we still need to move quickly and make changes to push that forward because we can make some big gains with that."
Hulkenberg thinks that Sauber cannot yet seriously target the kind of form it was able to produce last year, but he thinks the outfit is moving forward.
"I think the updates are a step forward, and definitely we benefit from it and we gain from it," he said. "But how much of that I am not quite sure.
"My option run [on Friday] was compromised by traffic, with two Mercedes in five corners in a row, but the gaps to the front look quite big.
"The Mercedes seem to be in a different world and [Felipe] Massa had some quick times there at the front, which we cannot fight for at the moment.
"We have made a step forward. But how big it is, I am not sure right now."
Info: Autosport.com Image: Sauber F1 Team