After a dominating weekend McLaren finally sales away with a long awaited victory.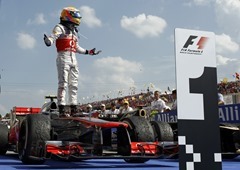 Lewis Hamilton puts his hunt for the championship back on track getting back to 4th place, while Fernando Alonso adds a little more distance between him and his rivals while Red Bulls drivers get closer together mainly because Mark Webber had a second bad weekend when he struggled for pace while his teammate had no problem to fight for the top positions.
With the second double podium Lotus F1 gets back to 3rd place in constructors championship conforming that they have a fast car but still missing something to win.
| Pos. | Drivers | Teams | Time |
| --- | --- | --- | --- |
| 01. | Lewis Hamilton | Vodafone McLaren Mercedes | Winner |
| 02. | Kimi Raikkonen | Lotus F1 | +1.0 secs |
| 03. | Romain Grosjean | Lotus F1 | +10.5 secs |
| 04. | Sebastian Vettel | Red Bull Racing | +11.6 secs |
| 05. | Fernando Alonso | Scuderia Ferrari | +26.6 secs |
| 06. | Jenson Button | Vodafone McLaren Mercedes | +30.2 secs |
| 07. | Bruno Senna | Williams F1 | +33.8 secs |
| 08. | Mark Webber | Red Bull Racing | +34.4 secs |
| 09. | Felipe Massa | Scuderia Ferrari | +38.3 secs |
| 10. | Nico Rosberg | Mercedes AMG Petronas | +51.2 secs |
| 11. | Nico Hulkenberg | Sahara Force India | +57.2 secs |
| 12. | Paul di Resta | Sahara Force India | +62.8 secs |
| 13. | Pastor Maldonado | Williams F1 | +63.6 secs |
| 14. | Sergio Perez | Sauber F1 | +64.4 secs |
| 15. | Jean Eric Vergne | Scuderia Toro Rosso | +1 Lap |
| 16. | Daniel Ricciardo | Scuderia Toro Rosso | +1 Lap |
| 17. | Heikki Kovalainen | Caterham F1 Team | +1 Lap |
| 18. | Kamui Kobayashi | Sauber F1 | +2 Laps |
| 19. | Vitaly Petrov | Caterham F1 Team | +2 Laps |
| 20. | Charles Pic | Marussia F1 | +2 Laps |
| 21. | Timo Glock | Marussia F1 | +3 Laps |
| 22. | Pedro de la Rosa | HRT F1 Team | +3 Laps |
| 23. | Narain Karthikeyan | HRT F1 Team | RET |
| 24. | Michael Schumacher | Mercedes AMG Petronas | RET |
| | Fastest Lap: | Sebastian Vettel | 1:24.136 |
Find us on Facebook and Twitter for all the latest updates for the F1 2012 season