An Indian court will on Friday hear a petition to cancel this weekend's formula one race near New Delhi.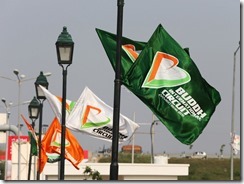 Indian reports say a supreme court judge agreed to hear the petition that was filed by a public interest campaigner called Amit Kumar, on the grounds that organisers have not paid enough tax. "We will hear the petition tomorrow," the judge said.
Earlier this week, the Uttar Pradesh government was in the supreme court seeking the withdrawal of entertainment tax exemption for the beleaguered Indian grand prix organisers. The exemption had been achieved for F1 by the former Uttar Pradesh government.
While it is unlikely Friday's court action will succeed, Indian motor racing official Vicky Chandhok admitted the 2013 race could be the country's last. He told British broadcaster Sky that he is only 70 per cent sure the race will return to the calendar in 2015, after a one-year hiatus for reportedly "logistical" reasons. "I am really disappointed about not having it 2014, but I hope to be in 2015 and 2016," said Chandhok. "But the price has to be right."
Info: GMM, Image: