Formula 1 is present yet again at another historic circuit.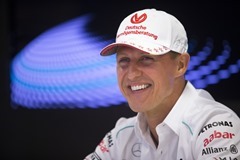 Jenson Button dominated the Belgian GP last weekend and is now in P2 in what was the first practice here at Monza. The "temple of speed" is a 5.793km long track and has hosted more than 60 GP's so far.
After escaping a grid penalty Schumacher successfully claimed the P1 in this practice session on a track that will suit the Mercedes D-DRS systems.
| Pos. | Drivers | Teams | Time | Laps |
| --- | --- | --- | --- | --- |
| 01. | Michael Schumacher | Mercedes AMG Petronas | 1:25.422 | 26 |
| 02. | Jenson Button | Vodafone McLaren Mercedes | 1:25.723 | 29 |
| 03. | Nico Rosberg | Mercedes AMG Petronas | 1:25.762 | 26 |
| 04. | Fernando Alonso | Scuderia Ferrari | 1:25.800 | 22 |
| 05. | Felipe Massa | Scuderia Ferrari | 1:25.861 | 27 |
| 06. | Lewis Hamilton | Vodafone McLaren Mercedes | 1:25.944 | 30 |
| 07. | Kimi Raikkonen | Lotus F1 | 1:26.046 | 25 |
| 08. | Sergio Perez | Sauber F1 | 1:26.323 | 26 |
| 09. | Mark Webber | Red Bull Racing | 1:26.390 | 24 |
| 10. | Pastor Maldonado | Williams F1 | 1:26.504 | 19 |
| 11. | Sebastian Vettel | Red Bull Racing | 1:26.508 | 18 |
| 12. | Nico Hulkenberg | Sahara Force India | 1:26.518 | 21 |
| 13. | Valtteri Bottas | Williams F1 | 1:26.641 | 26 |
| 14. | Kamui Kobayashi | Sauber F1 | 1:26.746 | 23 |
| 15. | Jerome D'Ambrosio | Lotus F1 | 1:27.180 | 29 |
| 16. | Jules Bianchi | Sahara Force India | 1:27.192 | 22 |
| 17. | Daniel Ricciardo | Scuderia Toro Rosso | 1:27.373 | 25 |
| 18. | Jean Eric Vergne | Scuderia Toro Rosso | 1:27.789 | 24 |
| 19. | Heikki Kovalainen | Caterham F1 | 1:27.855 | 27 |
| 20. | Vitaly Petrov | Caterham F1 | 1:28.578 | 20 |
| 21. | Charles Pic | Marussia F1 | 1:28.751 | 26 |
| 22. | Timo Glock | Marussia F1 | 1:29.207 | 21 |
| 23. | Pedro de la Rosa | HRT F1 Team | 1:29.331 | 21 |
| 24. | Ma Qing Hua | HRT F1 Team | 1:31.239 | 26 |
Find us on Facebook and Twitter for all the latest updates for the F1 2012 season