McLaren lock the front row of the grid after what seem to be a failed slipstream attempt from Ferrari.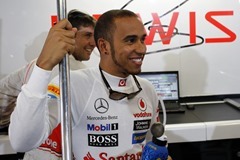 Lewis Hamilton has done it again and stopped the clock at 1.24.010 taking the pole position while Jenson took advantage off the cars in front and placed himself in the second place.
Felipe Massa managed to get his best qualifying of the season and will start tomorrow from P3 while his teammate Fernando Alonso will only start from P10 after something broke at the back end of his F2012.
Pos.
Drivers
Teams
Time
Laps
01.
Lewis Hamilton
Vodafone McLaren Mercedes
1:24.010
15
02.
Jenson Button
Vodafone McLaren Mercedes
1:24.133
15
03.
Felipe Massa
Scuderia Ferrari
1:24.247
16
04.
Paul di Resta*
Sahara Force India
1:24.540
17
05.
Michael Schumacher
Mercedes AMG Petronas
1:24.802
14
06.
Sebastian Vettel
Red Bull Racing
1:24.833
22
07.
Nico Rosberg
Mercedes AMG Petronas
1:24.855
15
08.
Kimi Raikkonen
Lotus F1
1:24.809
18
09.
Kamui Kobayashi
Sauber F1
1:25.109
18
10.
Fernando Alonso
Scuderia Ferrari
1:25.678
16
11.
Mark Webber
Red Bull Racing
1:24.809
21
12.
Pastor Maldonado*
Williams F1
1:24.820
17
13.
Sergio Perez
Sauber F1
1:24.901
14
14.
Bruno Senna
Williams F1
1:25.042
16
15.
Daniel Ricciardo
Scuderia Toro Rosso
1:25.312
20
16.
Jerome D'Ambrosio
Lotus F1
1:25.408
19
17.
Jean Eric Vergne
Scuderia Toro Rosso
1:25.441
18
18.
Heikki Kovalainen
Caterham F1 Team
1:26.382
11
19.
Vitaly Petrov
Caterham F1 Team
1:26.887
11
20.
Timo Glock
Marussia F1
1:27.039
10
21.
Charles Pic
Marussia F1
1:27.073
9
22.
Narain Karthikeyan
HRT F1 Team
1:27.441
9
23.
Pedro de la Rosa
HRT F1 Team
1:27.629
10
24.
Nico Hulkenberg
Sahara Force India
no time
2
 
107% Time:
 
1:30.067
 
*

Paul di Resta

will take a 5 places grid penalty and start 9th
*

Pastor Maldonado

r will take a 10 places grid penalty and start from P22
Find us on Facebook and Twitter for all the latest updates for the F1 2012 season