Eddie Jordan has urged Peter Sauber to follow him into F1 retirement.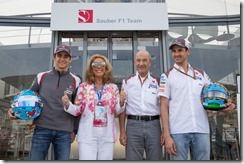 Actually, having sold his Silverstone based team back in 2005 that today is called Force India, Irishman Jordan is now an outspoken expert pundit for British television. But selling up, he told the Swiss newspaper Blick, "was the best decision of my career. Since then I have enjoyed every day of my life." Earlier, the veteran Blick correspondent Roger Benoit described Sauber's 2014 predicament as "embarrassing", after the backmarker Marussia in Monaco moved ahead in the constructors' world championship. "We talked in Monaco for a long time about Sauber," Benoit said, recounting his conversation with the 66-year-old Jordan.
Jordan said: "Sauber are in the biggest crisis they've ever been in, but I've always rooted for him. Because he (Peter Sauber) is the most honest guy in the paddock. "I can't say the same thing about me!" he laughed. "But it's obvious that they've reached the point where it can't go on like this. Before the damage is even greater, the best solution would be to stop and sell the team. "I don't say this lightly, but Sauber can no longer compensate for their disadvantages on the financial side, and also on the engine side as well," Jordan added.
Already reportedly up for sale is the Caterham team, and in Monaco it was said that an obvious potential buyer was the former Benetton and Renault chief Flavio Briatore. But the flamboyant Italian told the news agency PA Sport that he would rather hang on to his millions. "What you are sure of is the team is losing money, and I'm not interested in buying any team that loses money," said Briatore. Caterham's current team owner, Tony Fernandes, is yet to respond to multiple media enquiries about the situation, after his London football club Queens Park Rangers earned promotion to the premier league. "Am so behind on tweets and emails and sms," he wrote on Twitter. "Got thousands of congratulations. Apologises for delay."
Image: Sauber