Kimi Raikkonen's manager is not ruling out a return to Ferrari for the 2007 world champion.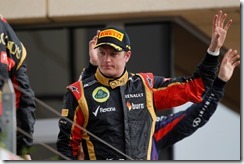 On Monday, Steve Robertson admitted talks with Red Bull about Raikkonen replacing the Le Mans-bound Mark Webber had been "unsuccessful". But the 33-year-old Finn, who currently drives for Lotus, has also been linked with a return to Ferrari, despite the Italian team having replaced him with Fernando Alonso with a year to run on his contract at the end of 2009.
Asked if Ferrari is an option, manager Robertson told the BBC: "Until they confirm their seats, my job is to speak to all the teams and see what's available." Robertson also told Brazil's O Estado de S.Paulo newspaper on Monday that Raikkonen has more than one alternative to Lotus for 2014. "I'm not worried," he said, "because we have other options — plural."
Brazilian correspondent Livio Oricchio said Red Bull's Christian Horner and Christian Horner pushed hard to sign Raikkonen, but Dr Helmut Marko ultimately got his way. Marko reportedly convinced team owner Dietrich Mateschitz that Red Bull should take young Australian Daniel Ricciardo, because it better balances the lineup alongside the likely reigning quadruple world champion Sebastian Vettel.
Ricciardo's signing also proves the worth of the Red Bull junior team Toro Rosso, and gives the next rising youngster, Antonio Felix da Costa, his 2014 debut.
Meanwhile, a post on Twitter by Ferrari's Fernando Alonso might be seen as a return of fire, after Luca di Montezemolo publicly criticised the Spaniard's outbursts in the wake of the recent Hungarian grand prix. Reverting to the wisdom of the Samurai, Alonso said: "The warrior that uses the sword when insulted cannot be considered brave. "Brave man does not flinch, because he has higher goals."
Info: GMM, Image: Lotus