Kimi Raikkonen has been excluded from qualifying for the Abu Dhabi Grand Prix following a front floor deflection test failure.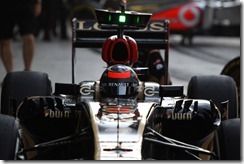 Representatives of his Lotus team were summoned to see the race stewards in Abu Dhabi after it was found that Raikkonen's car did not conform to the regulations. The left side of the floor was found to deflect more than the permitted 5mm vertically when the testing load was applied to it.
Investigations by Lotus found that the issue had been caused by a broken floor due to curb damage, but the stewards did not accept the explanation. He has therefore been excluded from qualifying but will be allowed to start from the back of the grid.
Info: Racer.com, Image: Lotus