Australian Grand Prix winner Kimi Raikkonen will start tomorrow's Malaysian Grand Prix from 10th on the grid.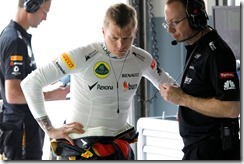 Raikkonen qualified 7th, but was handed a 3-place grid penalty after the session when the stewards found he had impeded Mercedes' Nico Rosberg during qualifying.
Raikkonen will have his work cut out to fight for victory from 10th on the grid. In last weekend's Australian Grand Prix, he won the race from 7th on the grid, largely as a result of tyre management – he was able to look after his tyres well enough to make only 2 pit stops compared to 3 for most of the rest of the field.
Raikkonen now starts just one place ahead of his team-mate, Romain Grosjean. With the Lotus drivers so close together on the grid, there relative performance will now be very much in the spotlight. Raikkonen was comfortably quicker than Grosjean in Melbourne last week, a situation Grosjean will want to reverse tomorrow. Unfortunately for the Frenchman, he is running an older specification exhaust than Raikkonen, and is therefore handicapped before the race even starts.
Nico Rosberg, who was impeded by Raikkonen during qualifying, starts the race 6th for Mercedes.
You can see the full Malaysian GP starting grid here.
Info: F1Plus, Image: Lotus F1 / LAT