Kimi Raikkonen has refused to confirm or deny rumours linking him to Red Bull for 2014, insisting even retirement remains an option.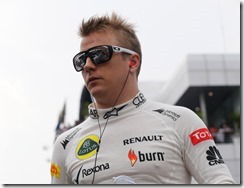 In the wake of the 'Multi-21' saga, with some suspecting Mark Webber's place alongside Sebastian Vettel is now untenable, Red Bull owner Dietrich Mateschitz said 2007 world champion Raikkonen is "cool, fast and always a candidate".
Raikkonen, 33, ran with Red Bull sponsorship in world rallying after leaving Ferrari a few years ago, returning to F1 with Lotus in 2012 and showing impressive form.
Red Bull's Dr Helmut Marko echoed Mateschitz's comments about Raikkonen on Wednesday when he admitted the Finn "is someone who is on our list for next year". But when asked if he has already turned his attention to the end of his current contract and 2014, Raikkonen insisted: "I have not. "I could even retire," he told Turun Sanomat newspaper. "I don't have any contract – nothing – for next year. "I am focusing on now," Raikkonen added.
Well-connected paddock sources insist that Red Bull must at least be considering replacing Webber for 2014. Raikkonen and German Vettel are good friends, which according to Auto Motor und Sport correspondent Michael Schmidt could make a big difference, given the likely venom of the continuing Webber/Vettel relationship. "Well," the respected journalist is quoted by Finnish newspaper Turun Sanomat, "Vettel and Webber's relationship will never be the same. "Vettel has apologised, but really that was just for the public. Deep down, he knows the importance of those seven points. "It is the difference between the champion and the normal racing driver. "Champions think only of themselves."
Vettel's former trainer Tommi Parmakoski agrees: "The first thing is that everyone needs to follow their team boss. "But on the other hand, knowing Sebastian as well as I do, he has this unbridled desire to win. It is the fundamental reason why he has won so much and endured the toughest pressures."
Info: GMM, Image: Lotus f1 Team