The Enstone based team is completely focused on the next Grand Prix after having to deal with some frustration after the first two races of the season and not being able to show the true potential of the new E20.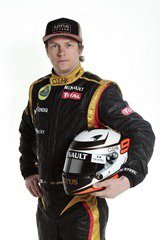 But even so the both drivers were more than happy with how the car is handling and they have also confirmed that the car is quick and solid.
For the next race that will take place in Shanghai this weekend the Enstone outfit will bring a new set of upgrades with which they hope to gain even more speed and reliability in order to fulfil their goal of being in the top 3 teams this year.
Kimi Raikkonen said: "The E20 certainly feels good. We're working to get the steering exactly right for me – and we're almost there. The speed in the car is good – and this applies to qualifying and race pace. It's been two frustrating races in terms of where we started. We shouldn't have started so far back in Australia, and the penalty for changing the gearbox before the Malaysian Grand Prix cost us finishing positions too, but that's motor racing."
The 2007 world champion is also feeling optimistic about China and the race track there: "I won there in 2007 and that was a good feeling as that was the year I won the World Championship. It's a proper race track and there are good opportunities for overtaking. Our car looks good so let's see what happens when we get out on track." but he does not have any specials feelings for the Shanghai International Circuit or any other circuit in particular: "It's just another race track – I don't have particular favourites or anything like that. It's quite similar to Albert Park and Sepang in what it requires from the car so that should be good for us. We have some new parts for the E20 so that should also be good. I'm sure all the other teams have new parts for their cars too, so we won't know where we are until we get there."
Romain Grosjean will also be more than happy to return to racing and prove what he can do after he saw his both first races cut short: "When you make mistakes you have to admit it and not repeat that mistake. When it's not your fault – well it's not your fault. The first two races were tough and we didn't get a result. On the other hand I know that we can do some great things in the future races. My season starts properly in China."
Talking about the new upgrades the young drivers feel optimistic about them: "It's great to see how much the factory is behind us and working very hard to give us updates. We've had a promising start to the season and we all want to get the best in every area, so a new aerodynamic package is quite exciting; I can't wait to see how it looks and then experience how it feels on track. Then, most importantly, I want to see the lap time gain."
Info and Image: Lotus F1 Team/LAT