Kamui Kobayashi has backed the sweeping changes at Caterham, even though it has put his formula one future in doubt.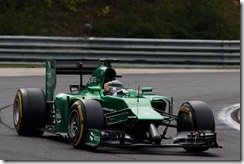 After founder Tony Fernandes' sudden sale and departure, the Malaysian team entered the hands of mysterious Swiss-Middle Eastern investors and new bosses Colin Kolles and Christijan Albers. Almost immediately, 40 staff were controversially axed. The next possibility is a change in the green-lined cockpits, with Swedish rookie Marcus Ericsson adequately backed but exciting Japanese driver Kobayashi substantially unfunded.
Dutchman Albers admitted recently that he has had talks with the cream of the Red Bull junior programme, Carlos Sainz jr. When asked about Ericsson and Kobayashi, he said: "I want to see results — that's very important for every formula one team." The former Spyker and Minardi driver said he thinks Caterham's current duo is doing "a good job", but he also hinted that a change cannot be ruled out. "We know we need performance and also of course with a team like Caterham we also always need a little bit of budget," said Albers.
Although perhaps the most likely driver to make way at Caterham, Kobayashi insists he backs the sweeping changes at the struggling team. "I think this is what we needed, otherwise I think we couldn't finish the season," he said. "It was the right move. "As you see in the news I think quite a lot of people left straight away but I think we need to keep motivated. I think if we want to survive we need to change something," Kobayashi added. "Of course, it's the same from my side. I think I need to always drive 100 per cent, which gives motivation. Let's see what happens."
Image: Caterham F1 Team