Red Bull team figures like Christian Horner, Dietrich Mateschitz and Helmet Marko have all said they were "surprised" by Daniel Ricciardo's pace so far in 2014.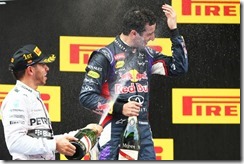 Perhaps that is because the fresh-faced Australian's form casts a pall over the recent achievements of the team's quadruple world champion, Sebastian Vettel. Indeed, Ricciardo's first ever F1 team boss, Dr Colin Kolles, insists he is not surprised at all. With Red Bull's backing, Kolles – who also knows Vettel well from his days in the F3 scene – gave Ricciardo his first seat at now-defunct HRT in 2011. "Sebastian is extremely experienced despite his young age, but Daniel is also extremely talented," Kolles told the German newspaper Die Welt.
"Sebastian has more pressure on him as a four-time champion, an obligation to win, while Daniel despite his discipline and seriousness is a completely relaxed character. "That's a tremendous advantage over Sebastian," he said. "When I first heard that Daniel would be driving for Red Bull, this scenario was completely clear. "As I said, I know both drivers, and Daniel is at least equivalent to Vettel at a very high level. So what has happened has not surprised me. "Both are very talented, disciplined and aggressive. Both are of the new generation after Michael Schumacher, Raikkonen, Alonso. "But Daniel due to his character and his situation is completely carefree with these cars and the new regulations, which is his greatest asset.
"When he was at HRT I could see he was a natural talent, a really exceptional driver. For me he is a future world champion, although hardly anyone except me noticed it at the time. "No one in F1 respects a team like HRT, so just us and Red Bull and a few insiders knew how good Daniel was."
Asked if Vettel will ultimately reclaim his top status at Red Bull, Kolles answered: "No one knows. "I can only say that it will not be easy for him, and Daniel will have his fun, as will the audience. "He (Ricciardo) is a gift for formula one, and I see the duel as very exciting, because it is completely open."