Heikki Kovalainen insists he has not yet given up on his formula one career.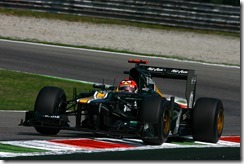 After losing his Caterham race seat, the Finn's hopes have been raised again with two more Friday practice drives at Spa last weekend, and Monza up next. But he admitted at Spa that if the team factors driver sponsorship into its race seat deliberations "again, then the return is not in my hands". "Everyone knows my situation," he told Turun Sanomat newspaper. "I do not come with money and, if I do get a sponsor, then I'll take the money for myself," he grinned.
It is suggested Kovalainen, 31, might instead follow the likes of Sebastien Buemi, Nick Heidfeld, Bruno Senna and Kamui Kobayashi into Le Mans-style sports cars.
Indeed, even Mark Webber is heading straight from F1's world champion team, Red Bull, into a Porsche prototype at the end of 2013. "I admit that I was a bit surprised," said Kovalainen, when asked about Webber's decision to leave F1 for the FIA's world endurance series. "At the end of last year I sat next to him on a plane and it sounded like he was full of motivation. "So it was a bit of a surprise, but I suppose he has considered it carefully."
Kovalainen, however, told Finnish correspondent Heikki Kulta that he is not yet thinking about a similar move. "This year, I have been asked to do many different projects in many different categories. But I don't feel so interested in them," he insisted. "It's because I have the feeling that I have more to give in formula one."
Info: GMM, Image: Caterham F1 Team