Heikki Kovalainen will penalised with 5 grid positions for failing to obey Safety Cars rules in the Australian Grand Prix.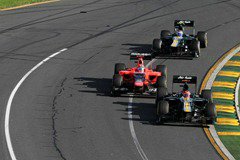 Heikki Kovalainen was force to abandon the season opener race in Australia in lap 42 but he received yet another bad news from the marshals shortly  after the race ended. He will be penalised with 5 grid positions after failing to comply with the Safety Car regulations.
  Caterham F1 Pilot received sanction for overtaking two rival pilots while the safety car was deployed, the rules say no driver can overtake another car until he passes the first safety car line for the first time when the safety car is returning to the pits while Kovalainen overtook two cars before that and will therefore lose five places on the grid at Sepang.
  Kovalainen wrote on his Twitter account later afternoon: "Tough day today, never mind one of those races that happen sometimes, bit harsh penalty from stewards for the next race but that's life too!"
  The penalty will not have a major impact over the qualifying results in Sepang because Caterham did not showed to have enough speed to get in Q2 and therefore Heikki will most likely start the race from the last position of the grid.