Niki Lauda has confirmed that Renault's F1 rivals opposed a move to delay the 2014 engine performance 'freeze'.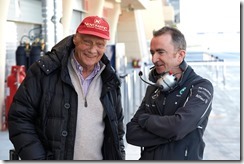 Although denied by the embattled French marque, it was reported last week that Renault made the request that was subsequently discussed during the meeting last Friday of the F1 strategy group. It was there, Mercedes team chairman Lauda confirmed, that a postponement of the mandatory homologation of the new turbo V6 engines was ruled out.
Asked by Osterreich newspaper if he was opposed to Renault's request, former triple world champion Lauda answered: "Exactly. "There are rules and everyone must follow them." And Bild quotes the Austrian legend as confirming that the strategy group made "absolutely the right decision" in ruling out a freeze delay.
Mercedes is obviously happy to see rivals Ferrari and Renault have to freeze the performance components of their 'power units', given the clear advantage enjoyed by the German outfit and its customer teams at present. But Lauda insists the full "truth" of the 2014 pecking order is not known yet. "That will emerge only in Melbourne," he said, "and even then, every race after that will bring new surprises. "But of course, the world title must be our goal."
Info: GMM, Image: Mercedes