Niki Lauda has dismissed claims Mercedes is set to dominate the 2014 season because the German carmaker spent more on its new turbo V6 'power unit'.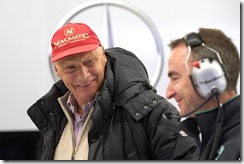 "It is no secret," Renault-powered Lotus' team owner Gerard Lopez said this week, "that we face an extremely well-resourced rival in Mercedes who have dedicated considerable efforts to their power units for the 2014 season." Red Bull's Christian Horner added this week: "They (Mercedes) invested more, they invested earlier." Former F1 driver Gerhard Berger told the APA news agency: "They (Mercedes) are ahead of the game because they invested more money."
And even Ferrari is claiming it has been out-powered in the resources department by Mercedes as F1 makes its revolutionary technical shift. "If we had more time," boss Stefano Domenicali told Italy's Autosprint, "maybe we would be more prepared for the start of the season. "The complexity of this project is really high and our resources are, so to speak, limited." Domenicali said that on the other hand, Mercedes has "more specific" engine-related "firepower", that has "exaggerated" the early phase of F1's new era. "It is clear that they have been in a position to arrive at the start having solved all the problems that we have only found," the Italian insisted.
But Lauda, who is Mercedes' F1 chairman, disputes the claim that Mercedes is so far ahead. "We will only know when the first three races are over," he told RTL television, "but I think Ferrari is on roughly the same level as Mercedes. "The only one that really struggles at the moment is Renault. They do not have the reliability that we have, simply because we have done a better job. "But that has nothing to do with money," Lauda insisted.
Told, however, that Mercedes has clearly invested more than its rivals in the development of its new V6, the great Austrian answered: "No. "Our team is the same as it has been; the investments for all three engine manufacturers are the same. "Nothing has changed in the basic structure of the three companies," said Lauda. He also thinks Renault is probably not far away from solving its problems, however dramatic the French marque's situation appears. "We all know that in formula one, rapid development jumps are possible," said Lauda. "And if Renault just has software problems, it (Renault's recovery) could be really fast."
Info: GMM, Image: Mercedes GP