Lewis Hamilton is still in the hunt for the world championship despite failing even to finish in Australia.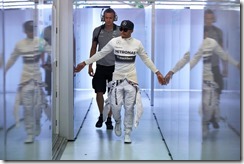 That is the view of Mercedes team chairman Niki Lauda, who revealed he consoled the Melbourne pole-sitter by harking back to his own F1 history. After Hamilton retired at Albert Park only to see his German teammate Nico Rosberg go on to win, Lauda said: "I hugged him (Hamilton) and said 'This was only the first race. "'In 1984 I also failed in the first race but I was world champion in the end'," Lauda recalled telling Briton Hamilton. Indeed, while Lauda retired in the pits at Jacarepagua in Brazil, his McLaren teammate Alain Prost won the race.
But Lauda went on to win the 1984 title by half a point. Asked how Mercedes has managed to get off to such a strong start in 2014, Lauda told the Osterreich newspaper: "Because we have been best with the new engine regulations. "Also last summer, when Red Bull was still focusing on the 2013 season, we were already developing our new car," he added.
Italy's La Repubblica declared after Sunday's Australian grand prix: "The F1 revolution has its leader." But Mercedes chief Toto Wolff expects Red Bull to catch up. "With these new cars," he told Kleine Zeitung newspaper, "the development curve is much steeper than usual." He said the reigning world champions had already "caught up massively" between the winter season and Melbourne. And Red Bull's increasingly confident Dr Helmut Marko said: "We know what is still to come in our car and the (Renault) engine. "On the engine we are still nowhere near the maximum," he insisted. McLaren's Jenson Button, however, thinks that at the moment, F1 has a clear leader. He said: "Right now we seem to be able to fight against everyone — except one."