Lotus is prepared to push on with developments of its E20 much further into the F1 campaign than it has its previous cars, as it hopes to launch a serious assault on the World Championship in the second half of the season.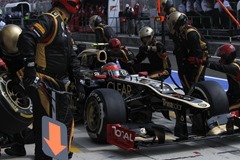 With the team's double podium finish in Hungary leaving rivals in no doubt that Kimi Raikkonen and Romain Grosjean are a serious threat for victory, Lotus itself thinks there is no reason why it cannot be chasing the ultimate prize this year.
Technical director James Allison told the UK's Sky Sports News on Friday that the team has realized that its form in recent years suffered from it electing to shift its resource on to the following year's cars.
"One of the things that our team has got a little bit wrong in the last couple of seasons is that we have been too ready to switch over to the new car a little bit too soon," he said. "So we started this year consciously intending to develop this one a bit longer than normal."
Although Raikkonen is 48 points adrift of points leader Fernando Alonso and 225 points still available, Allison thinks there is reason to believe Lotus can mount a serious challenge for the championship. When asked about the chances of Raikkonen being champion, Allison said: "Why not? There are an awful lot of points for coming first and there are a lot of races to be done. The lead is minuscule compared to the points available."
Source: Racer.com, Image: Lotus F1 / LAT Photographic
Find us on Facebook and Twitter for all the latest updates for the F1 2012 season