Pastor Maldonado has denied his sponsorship backing is ending.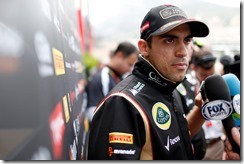 Early this week, the new Venezuelan sports minister Antonio Alvarez warned the country will not spend "one more dollar" on motor racing. But until now, 29-year-old Maldonado, famously close to Venezuela's late president Hugo Chavez, has been powered by state millions through the oil company PDVSA. For 2014, that lucrative backing was moved from Williams to Lotus, where Maldonado has endured a nightmare start to his fourth season on the grid.
But in Monaco on Wednesday, he denied that his PDVSA-fuelled F1 adventure is now ending. "There was a very big misunderstanding in the media," he is quoted by Brazil's Totalrace. "PDVSA gave no statement, (they) said nothing. It was the minister of sport who made the statement that it (the government) will cut the sponsorship of motor sport, which was already known. "And it is not going to cut, it already did cut since last year, and with good reason because we know that some drivers stole money from the ministry of sports. "How can we expect the government to follow this sport when drivers steal?" said Maldonado.
But he said any specific question about PDVSA's involvement in F1 should be directed to the oil company, and to the recipient of the sponsorship, Lotus. "It's hard to know what will happen," he explained, "because firstly PDVSA have said nothing and, second, I am a driver with no personal support; the sponsorship is for the team." Maldonado also said he has been unaffected by recent criticism of his driving in 2014, with fans on social media often ridiculing his regular involvement in incidents. "At least someone is talking," he smiled. "I'm used to having a lot of criticism. "It's ok. We live in a free world so everyone can say whatever."
Image: Lotus F1 Team/LAT