Pastor Maldonado was involved in an incident with Sergio Perez in final practice which brought him a ten place grid penalty.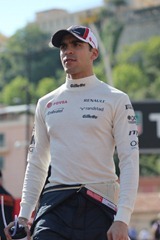 In addition to that he received another five places drop after the team decided to change his gearbox. Starting 23rd Maldonado's weekend came to an crashing end when he hit Pedro de la Rosa and then retired.
"I'm really disappointed with the weekend. It's been difficult after FP3, but this is racing, sometimes it's good and sometimes not. I think we need to turn the page and look forward to the next race.

"I've just been talking with the engineers about the next race and trying to not do the same mistakes we made here, especially with the car and trying to improve on the technical side.

"I think we are getting more competitive, we will still be near the top, and I think there is great confidence with the car and with my people now, and i"m looking forward to being strong again in Canada."
Also the young Venezuelan is adamant that one bad weekend won't shatter his new found confidence.
"I think that the best thing now is that I am very confident, I'm very confident with the car and I'm very confident with the team and I've gained that just by working" he said.
After a mixed feelings weekend at Williams now everyone's is looking forward for Canada with a renews hope for a better result.
Source: Sport News 24, Image: Williams/LAT